On enchaîne avec la septième journée du championnat de France Elite ce week-end, avec notamment un match de la semaine qui sera crucial pour le maintien entre les Argonautes (crédit photo couverture : Antoine Buche) et les Centaures. Les deux promus seront également testés, avec des matchs face aux leaders des deux conférences.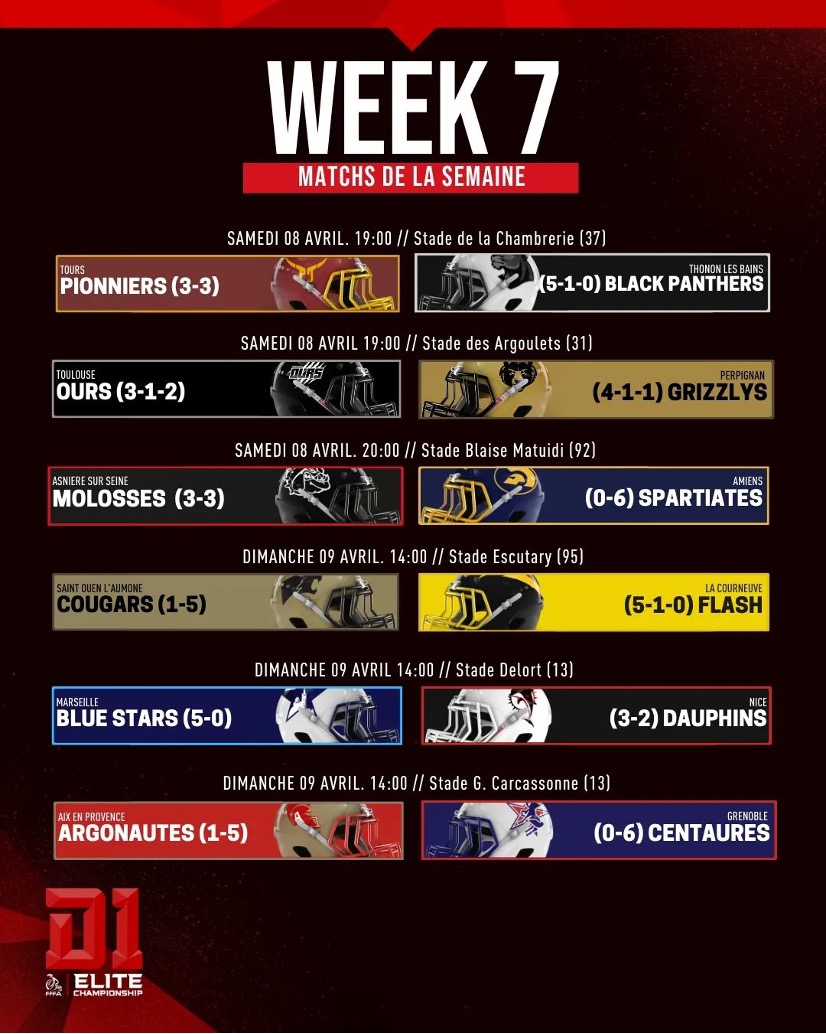 Pionniers de Touraine (3-3) vs Black Panthers de Thonon (5-1-0)
Samedi 8 avril, 19h
Stade de la Chambrerie, Tours
Malgré leur statut de promus, les Pionniers ont déjà prouvé leur niveau, et ils ont bien failli surprendre le champion en titre il y a quelques semaines. Mais sont-ils capables d'embêter des Black Panthers sûrs de leurs forces ? Le club de Thonon est actuellement leader de la conférence A – avec une meilleure différence de points que le Flash – et affiche la meilleure attaque et la meilleure défense de la conférence.
Les enjeux sont présents pour les deux équipes lors de cette 7ème journée, puisque les Black Panthers doivent gagner pour garder leur position de leader, et les Pionniers doivent l'emporter pour rester dans la course aux playoffs. 
Molosses d'Asnières (3-3) vs Spartiates d'Amiens (0-6)
Samedi 8 avril, 20h
Stade Blaise Matuidi, Asnières-sur-Seine
Diffusion sur la chaîne Youtube des Molosses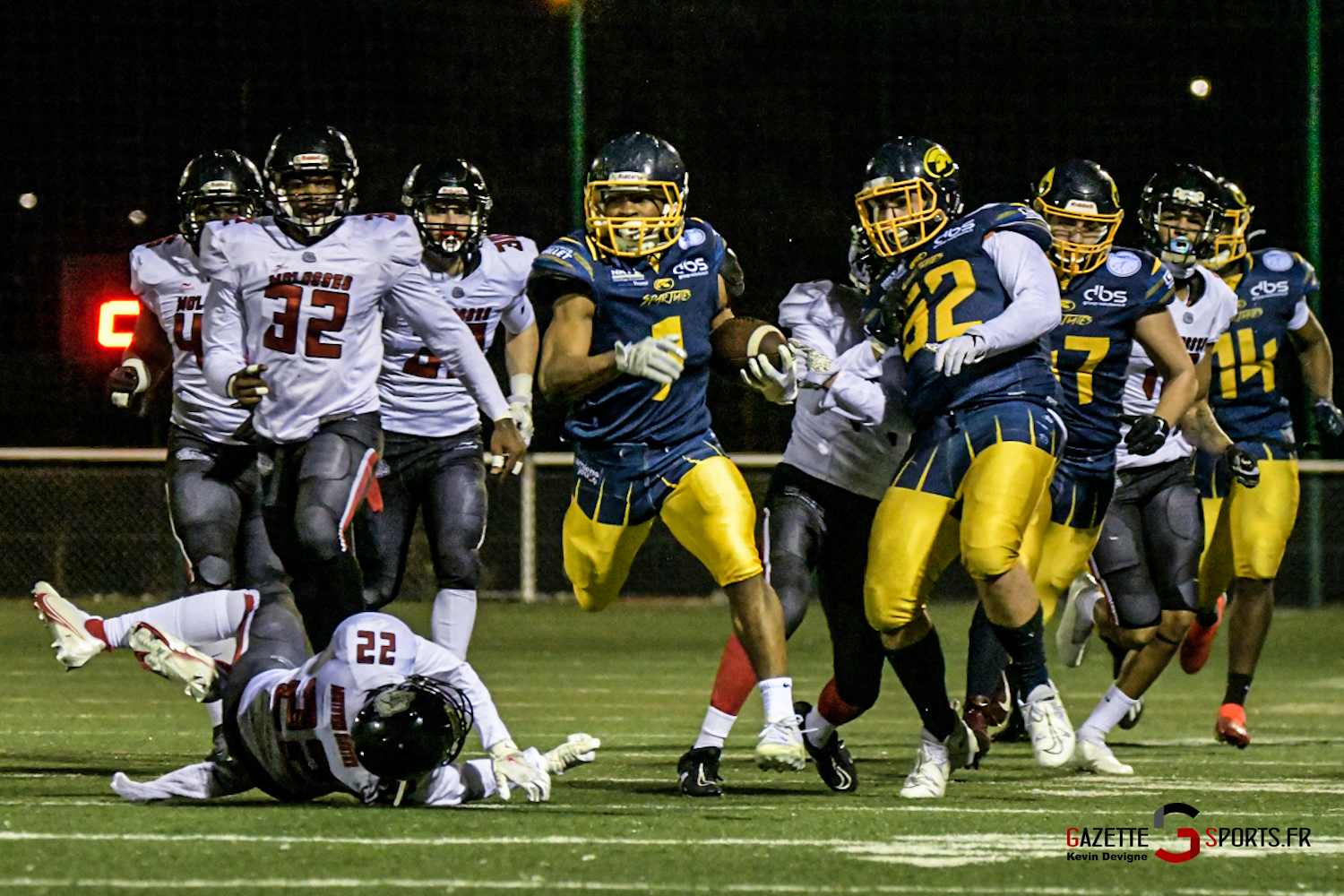 Toujours sans victoire cette saison, les Spartiates doivent absolument débloquer leur compteurs s'ils veulent avoir une chance de se maintenir. Défensivement dans le dur (242 points encaissés en 6 matchs), le club d'Amiens doit y croire face à des Molosses solides mais pas formidables offensivement (90 points marqués seulement).
La motivation sera également importante pour Asnières, qui veut conserver la 3ème place de la conférence A, qui serait synonyme de qualification en playoffs. Un revers face au dernier ferait tache.
Cougars de Saint Ouen (1-5) vs Flash de La Courneuve (5-1-0)
Dimanche 9 avril, 14h
Stade Escutary, Saint Ouen l'Aumône
Pour le moment, la victoire acquise face aux Spartiates sauve les Cougars, mais rien n'est gagné. Pour assurer le maintien, le club du 95 doit signer un autre succès. Et la réception du voisin de La Courneuve n'est pas idéal. Les champions en titre sont certes moins dominants que lors de la dernière saison régulière, mais ils n'ont toujours pas perdu et visent clairement la 1ère place de la conférence. 
Pour le moment autoritaires dans les derby franciliens, le Flash tentera également de soigner sa différence de point, afin de combler un peu d'écart avec les Black Panthers.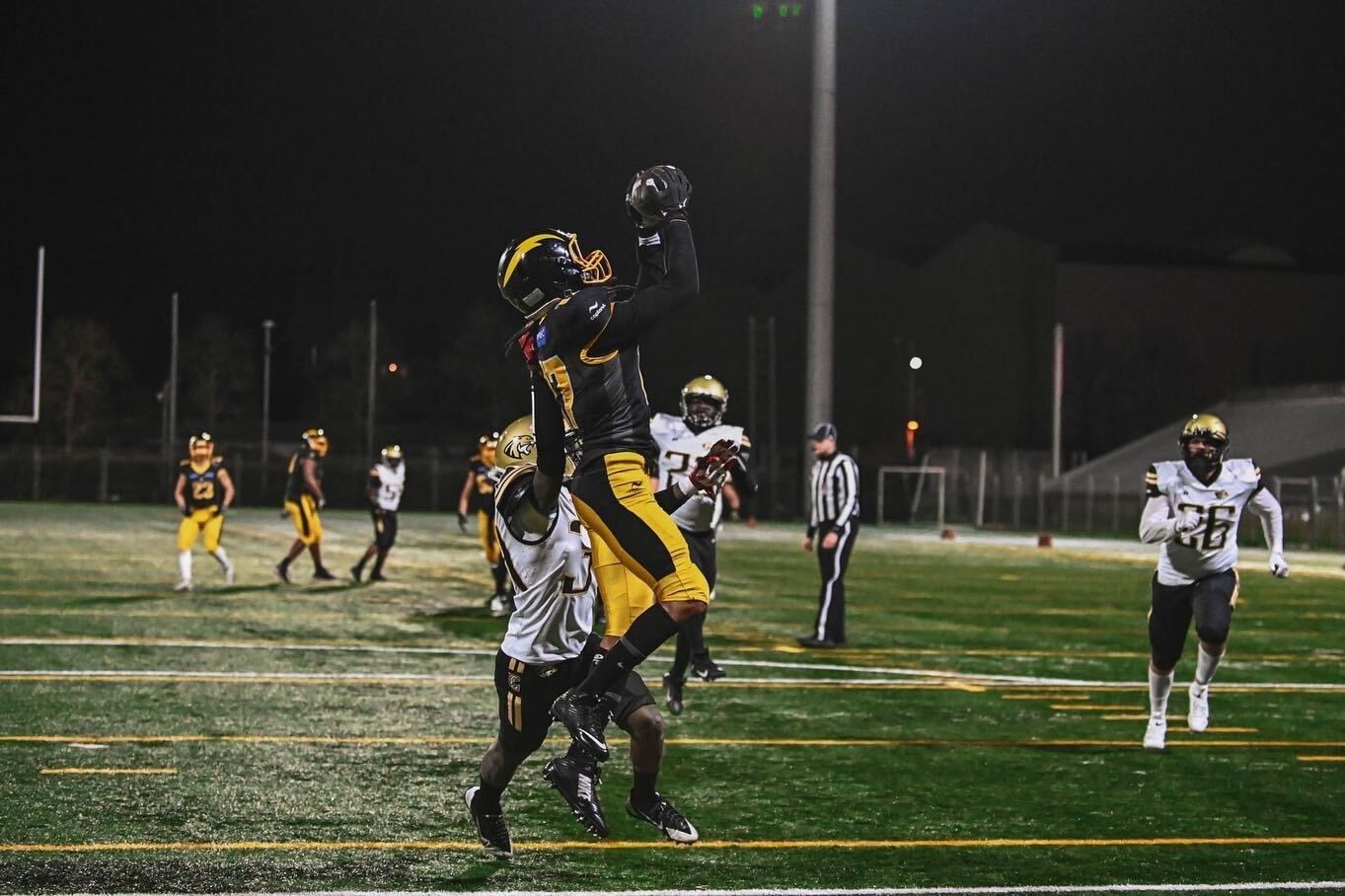 Ours de Toulouse (3-1-2) vs Grizzlys Catalans (4-1-1)
Samedi 8 avril, 19h
Stade des Argoulets, Toulouse
Diffusion sur la chaîne Youtube des Ours
La course aux playoffs fait rage dans la conférence B, et il n'y aura surement que 3 places pour 4 clubs. Les confrontations directes sont ainsi cruciales, et c'est le cas de ce duel entre les Ours et les Grizzlys.
Invaincus depuis leur revers face aux Blue Stars lors de la 1ère journée, les Catalans montrent du caractère en gagnant des matchs serrés. De son côté, Toulouse a un peu faibli après un gros début de saison régulière, mais la victoire arrachée à Grenoble le week-end dernier peut redonner un coup de boost à l'équipe. 
Blue Stars de Marseille (5-0) vs Dauphins de Nice (3-2)
Dimanche 9 avril, 13h
Stade Delort, Marseille
Ce sera le premier affrontement entre ces deux équipes cette saison, puisque le match aller avait été décalé. Sur le papier, il n'y a pas photo entre le favori Marseillais et le promu Niçois, mais la première partie du championnat a montré que les Dauphins devaient être pris au sérieux. L'objectif est désormais clair pour Nice : les playoffs.
Mis en difficulté pour la première fois de la saison lors du derby face à Aix, les Blue Stars doivent se méfier de cette rencontre. Mais la meilleure attaque et défense de la conférence B connaît ses forces et vise toujours un parcours sans faute.
Argonautes d'Aix en Provence (1-5) vs Centaures de Grenoble (0-6) – GAME OF THE WEEK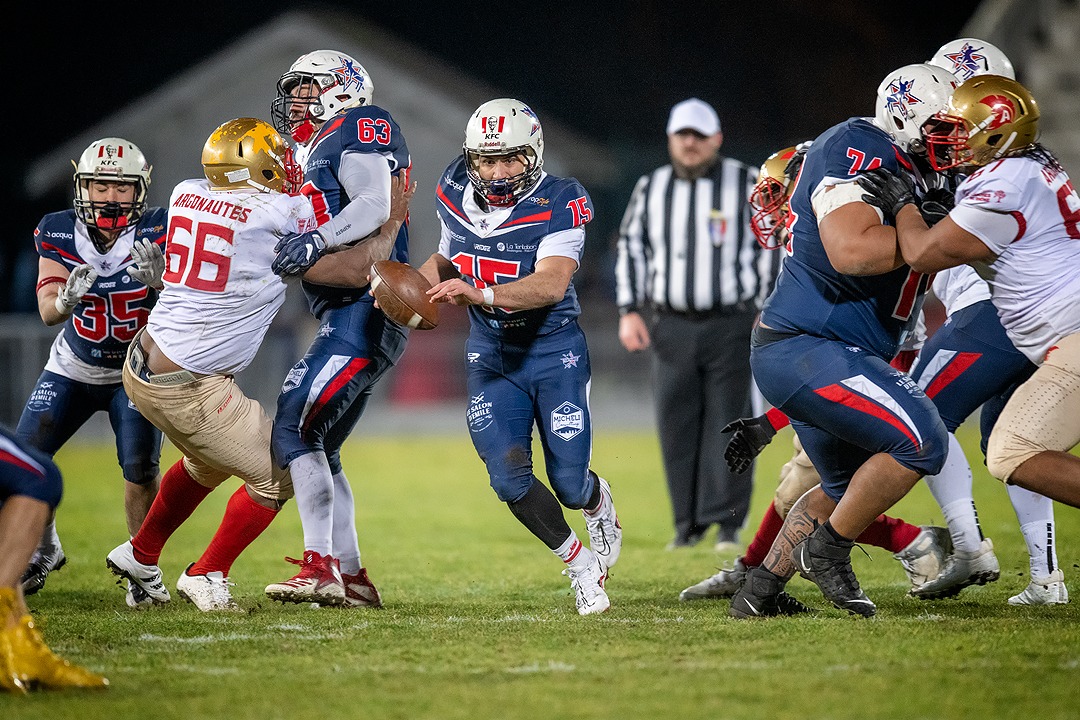 Dimanche 9 avril, 14h
Stade G.Carcasonne, Aix en Provence
A suivre en direct : YOUTUBE FFFA
Nouveau match de la peur, avec cette semaine un duel entre les deux derniers de la conférence B. Les deux équipes sont en difficulté cette saison, avec notamment des attaques peu prolifiques, mais il y a eu des raisons d'y croire. En effet, Argos comme Centaures restent sur des performances encourageantes.
Le week-end dernier lors du derby face à Marseille, les Argonautes ont tenu le match nul jusqu'à la dernière minute. Quant aux Centaures, ils ont livré une superbe 1ère mi-temps face aux Ours, avant de se faire coiffer au poteau sur le fil. La frustration doit laisser place à l'espoir pour aller chercher le maintien. Cette rencontre est particulièrement critique pour Grenoble, qui se rapprocherait de la D2 avec un nouveau revers.