Nous arrivons déjà à la fin de la phase aller de la saison régulière, et l'objectif des 12 clubs de l'élite sera de basculer dans la deuxième partie avec le meilleur bilan possible. Le Flash dans la conférence A et les Blue Stars dans la conférence B tenteront de rester invaincus, tandis que derrière, les victoires seront précieuses pour rester placé.
GAME OF THE WEEK
Black Panthers de Thonon (3-1) vs Molosses d'Asnières (1-3)
Direction les bords du Lac Léman pour la deuxième affiche de l'année diffusée sur Sport en France. Les Black Panthers accueillent les Molosses d'Asnières au Stade Moynat, pour un match important en vue des playoffs. D'un côté, le club de Thonon veut poursuivre sur sa bonne forme et enchaîner une 4ème victoire de rang. De l'autre côté, l'équipe d'Asnières aimerait lancer une bonne dynamique après sa première victoire de la saison.
La chaîne du sport, gratuite et dispo sur
TV : Orange (174), Bouygues (192), Free (190), SFR (129) App OTT : iOS & Android Twitch, Molotov, Rakuten Tv
Photo à la Une : Jenifer Jacquier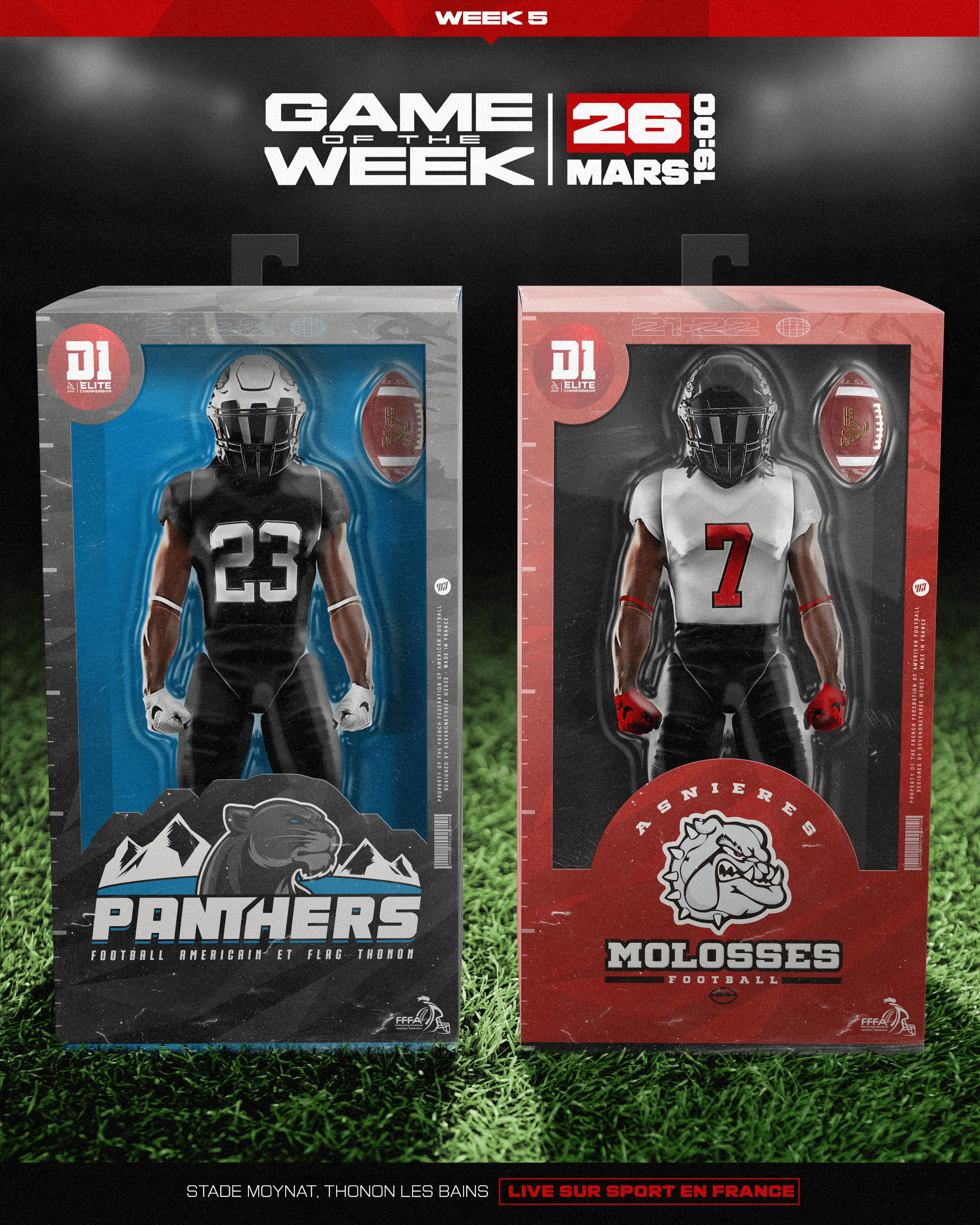 Conférence A
Vikings de Villeneuve d'Ascq (0-4) vs Flash de La Courneuve (4-0)
Choc des extrêmes dans la conférence A, entre le Flash, leader incontesté et invaincu, et les Vikings, qui courent toujours après leur premier succès cette saison. Le club de La Courneuve a marqué au moins 35 points à chaque match et est monté jusqu'à 63 à Amiens lors de la 3ème journée. Difficile d'envisager la défense du club du Nord encaisser les assauts de l'attaque francilienne, qui voudra terminer la phase aller avec un bilan parfait.
Cougars de Saint Ouen (2-2) vs Spartiates d'Amiens (2-2)
Duel entre équipes avec un bilan équilibré après 4 journées. Les Cougars se sont montrés plutôt convaincant lors de leurs différents matchs, même la semaine passée contre le Flash, mais il y a un petit soucis de régularité d'un quart temps à l'autre. Les Spartiates avaient bien démarré la saison, avec 2 succès à l'extérieur, mais ils viennent de perdre 2 fois à domicile face à des équipes plus fortes. A voir dans quelle case rentrent les Cougars, qui semblent tout de même favoris de ce match.
Conférence B
Blue Stars de Marseille (4-0) vs Grizzlys Catalans (3-1)
En dominant les Argos dans le derby, les Blue Stars se sont emparés seuls de la 1ère place de la conférence B. Toujours invaincus, et particulièrement impressionnants en défense, ils auront un nouveau gros match à gérer ce week-end. Car les Grizzlys continuent de surprendre et ils possèdent une attaque qui a les moyens d'inquiéter le club Marseillais. Cette rencontre devrait nous donner une idée (presque) définitive du potentiel de l'équipe Catalane.
Argonautes d'Aix (3-1) vs Ours de Toulouse (2-2)
Battus pour la première fois de la saison, à domicile face au rival Marseillais, les Argonautes veulent immédiatement rebondir. Mise en difficulté par le pass-rush féroce des Blue Stars, l'attaque aura à cœur de reprendre ses bonnes habitudes, à commencer par le prolifique QB Michael Pina. Mais attention à ne pas prendre de haut des Ours, qui sont allés s'imposer de très belle manière à Montpellier le week-end dernier, et qui affichent un bilan à l'équilibre après 4 journées.
Centaures de Grenoble (0-4) vs Hurricanes de Montpellier (0-4)
Duel de mal classés entre les Centaures et les Hurricanes, et l'objectif de ce match sera d'aller chercher un premier succès cette saison. Peut être celui qui permettra de basculer dans la deuxième partie du championnat avec un peu plus de confiance et une dynamique positive. Les problèmes sont nombreux pour les deux équipes, mais pas forcément dans les mêmes zones. Le club de Grenoble peine à marquer des points (seulement 31 en 4 matchs), tandis que Montpellier est dans le dur défensivement (pire défense du championnat avec 176 points encaissés).